Have I recently mentioned that reality beats satire most of the time? Okay, make that "any time"! This is
from the www.svt.se news page
:
Poliser får bära turban och huvudduk
Publicerad 9 mars 2006 - 11:19
Uppdaterad 9 mars 2006 - 20:06

Poliser får nu uttryckligen bära turban, huvudduk och judisk kippa i tjänsten.


Swedish police said Thursday they have changed their uniform restrictions to allow officers to wear turbans, head scarves or yarmulkes while on duty. The new policy is an answer to criticism of lacking in "diversity".
I guess the Swedes will have their
"stark symbolfunktion"
thrown in their faces soon, as have the Catholics already in terms of worldwide killing of Christians and destruction of Christian churches after the previous pope chose kissing the Koran as a
"stark symbolfunktion"
.
I'd say "serves them right" if this weren't going to cost innocent people's lifes.
Elsewhere, the dhimmies already came to heel in anticipating obedience:
Germany's Green party backs female police officers with Islamic hijab
Berlin, March 11, IRNA
Germany's opposition Green party said female police officers should be allowed to wear the Islamic headscarf, citing England and Sweden as examples of religious tolerance towards their public sector workers.

"I would welcome it, if the police are allowed to wear turbans or headscarves," said Green legislator, Joseph Winkler who is also an expert on migrant affairs.

Meanwhile fellow party member Angelika Beer concurred with Winkler's view by adding, "A policewoman with a headscarf has to be taken as serious as a female teacher with a headscarf."
That would be the same Angelika Beer, German Greens MEP, who called Iran "a fascinating country with a young well-educated society", right?
The same Angelika Beer who
finds the delivery of two submarines to Israel "irresponsible"
, wouldn't it?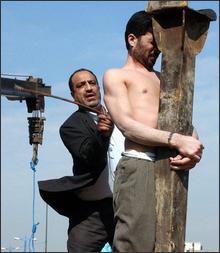 Fascinating with a young, well-educated society indeed. Hey, click HERE to watch a fascinating and well-educating stoning to death video!