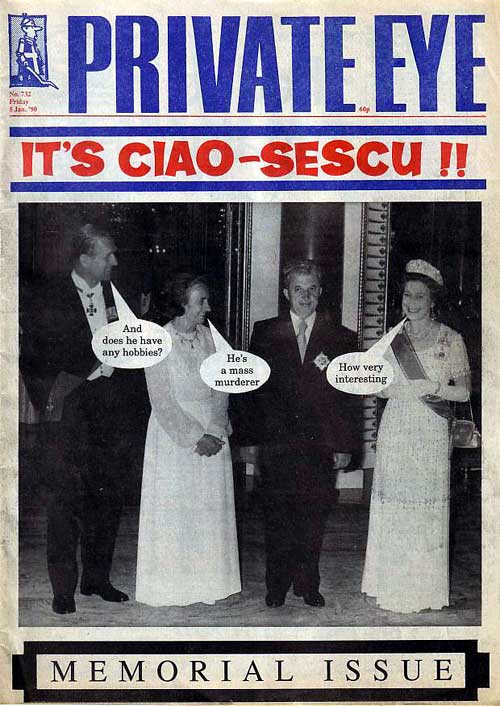 Do you know
Private Eye
?
Private Eye
is a fortnightly satirical magazine, English, of course, edited by Ian Hislop. They are often accused of revelling in scurrilous gossip and scandal about the misdeeds of the powerful and famous, have been at the recieving end of countless libel writs and they are said to have the best legal department of any company or organisation worldwide. They frequently report news that the mainstream press is too shit-scared to use for fear of legal reprisals, because they are of minority interest or simply not politically correct.
Private Eye
will print a story without hard evidence when there is an overwhelming consensus that the story is true. It also seems that they avoid breaking stories of politicians' extramarital rompings on moral grounds, but they will freely comment on such matters when they are unearthed elsewhere. They are irreverent, funny and annoying.
In a word: They are HEROES!
Every admirer of
Private Eye
will remember the cover about the splendid welcome that was given to President Nicolae and Madame Elena Ceausescu of Romania, with the Ceausescus, Queen Elizabeth and Prince Philip in full evening regalia at a state banquet. In speech bubbles (the standard stylistic device
Private Eye
uses for the cover), Prince Philip asks: "And does he have any hobbies?" Elena Ceausescu: "He's a mass murderer." The Queen: "How very interesting."
Yes, this IS funny, but that is not why I am unearthing it. Let's make a little leap:
Yesterday, the
Jerusalem Post
reported, based on revelations by Shin Bet (Israel Security Agency), that a Palestinian from the Gaza Strip who works for the humanitarian NGO
Doctors Without Borders
had been arrested for allegedly plotting to assassinate Israeli politicians.
Mazab Bashir, 25, from Deir el-Balah began working with
Doctors Without Borders
five years ago. In April, he revealed during a Shin Bet interrogation that he had been collecting intelligence on senior Israeli officials -- including Olmert and a number of Knesset members -- for months. Bashir met with the
Popular Front for the Liberation of Palestine
in September 2006, and said that the assassination was meant to avenge the deaths of Palestinian civilians. He also underwent arms training with the PFLP, and was picked to carry out the planned assassination. When he realized that the security surrounding Olmert was impenetrable, Bashir decided in December 2006 to kill David Be'eri, head of the Elad organization, a group involved in purchasing Arab homes in Jerusalem's Old City, and that same month he underwent combat training in the Gaza Strip in order to learn to kill without using weapons.
In January 2007, Bashir entered Israel again on behalf of
Doctors Without Borders
, and began collecting information on Be'eri. He made additional trips to Jerusalem in February and March, and on April 18 and was arrested on April 19.
During his interrogation, Bashir said he had planned to return to Gaza to complete his combat training and learn, among other things, how to break necks. He said he intended to use his skills to kill Be'eri. Bashir was indicted Thursday in the Jerusalem District Court.
So far so bad. And the reaction of the very NGO that provided the backup for the intended murder?
Duncan Mclean, head of 'Doctors Without Borders' in the region, told Israel Radio, "I don't think embarrassed would be the right word. We are very sad for Bashir who has been working for us for almost six years. But we would like to make it very clear that we make a distinction between his professional work and what he does on his personal time in the sense that all our staff is hired for professional reasons and I don't think our organization can be held liable for every aspect of their life."
I got it now! As
Liza
put it: Don't mix business and pleasure. At daytime, a pleasant bedside-manner for the Nobel Peace Prize Laureate, after hours, murdering Jews. A doctor without borders for sure.